Are you looking for a rewarding career with a hospital maintained in excellence?
Located on a spacious 94-acre campus in Palm Beach County, our 204-bed facility offers top-quality care in a full complement of healthcare services. Palms West has established a position of medical leadership by listening to the needs of people in our community and responding with compassionate, quality healthcare, and innovative new services that meet those needs.
If you think you might be a fit for a challenging and exciting career with Palms West, we invite you to explore our career opportunities. Thank you for your interest in joining our team at Palms West Hospital. We are always looking for dedicated professionals to join our dynamic healthcare team. Please use the form below to browse through the positions we have available.
View employment opportunities
To learn more about Palms West Hospital, click on the video below.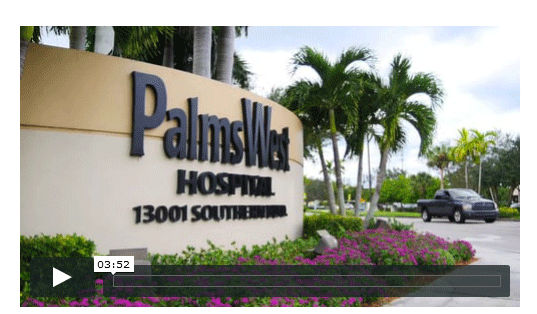 To apply for a position, please submit an online application. We hope you will find our application process easy to use. However, should you need assistance, please feel free to call or visit the Palms West Human Resources Department. Someone will be happy to help you complete an application. We are located in the main hospital building, just west of the Emergency Department entrance. If you require assistance completing the online application, contact the Human Resources Department at (561) 753-4216.
Applications and resumes are forwarded to hiring managers daily. Applications are only forwarded to the manager if there is currently an open position. If you are selected for an interview, our professional recruiter will contact you for an interview.
Please feel free to contact our Professional Recruiter at (561) 753-4214 if you have questions or wish to check the status of your application. HR is open Mon – Fri: 8:00am – 4:30pm. Palms West Hospital is an Equal Opportunity Employer. All employment offers are contingent upon a successful background check and health screen/drug test.
*Nurses in the Intervention Project for Nurses (IPN) must identify themselves upon application.