Our center offers physical, occupational and speech therapy for various conditions.
Physical Therapy
Helps those with orthopedic, sports injuries, arthritis or patients recovering from surgeries or other traumas.
Our state of the art equipment enables our highly skilled staff to develop a treatment plan to meet each individual specific needs.
Our Biodex strengthening system assists with the rehabilitation of various orthopedic and sports-related injuries.
Our computerized balance system enables your therapist to set up individualized programs for those suffering from falls and various balance difficulties.
Occupational Therapy
Deals with muscular or neurological conditions that limit an individual's full potential.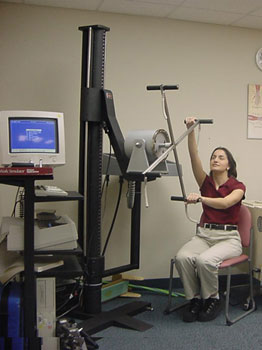 Our clinicians utilize state of the art work simulation equipment and manual skills to return patients to work and functions of daily life.
Our center includes an occupational therapists with extensive clinical training in hand therapy. Custom made splints are available for post surgical, orthopedic, and neurological conditions.