---
COVID-19 and Pregnancy - An Update for our Patients
We would like to take this opportunity to update you about your maternity care during the coronavirus (COVID-19) pandemic, and reassure you that our dedicated team of expert nurses, physicians and midwives are committed to providing safe and effective care to every patient who walks through our doors.
Read the full letter to our patients
Birthing center in Palm Beach County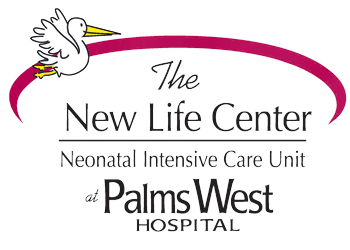 The New Life Center Neonatal Intensive Care Unit at Palms West Hospital is a obstetrics unit, providing the warmth and special care you deserve for the birth of your baby. Our private birthing and mother-baby suites create a comforting and secure environment and are furnished with the latest technology and equipment.
For more information on our maternity services, please call (561) 798-BABY (2229).
Trusted maternity services close to home
Our New Life Center was designed with your comfort in mind. It is our goal to navigate you through the delicate process of labor and delivery and put your mind at ease.
Our highly-skilled clinical staff will remain with you through your remarkable journey, and we allow families to stay together from the beginning of labor to the day your baby goes home.
Parents-to-be trust Palms West because we offer:
Board certified OB physicians and neonatologists
AWHONN Certified labor nurses
Certified neonatal nurses (skilled in level III NICU care)
Anesthesiologists skilled in labor and delivery
Surgical suite for C-sections located on the unit
Family centered care
OB Hospitalist 24/7
24/7 anesthesiologist available
Lactation Center and breastfeeding assistance by a lactation consultant
Childbirth education and sibling
State-of-the-art infant security system and locked OB unit
Flexibility with labor choices
Open visitation
Cuddler program (providing comfort and support to babies in the NICU)
If a Cesarean section (C-section) is scheduled or becomes necessary, our state-of-the-art surgical suite is conveniently located in our obstetrics unit.
Preparing for childbirth
We want to help you feel prepared and offer you and your family peace of mind. Here are some steps to help you prepare for giving birth:
Parenting classes for you and your family
We offer our pre-registered patients the most outstanding group of childbirth education classes within the western communities.
You can sign up for maternity classes online or call us at (561) 798-6085.
Childbirth class: Useful for expectant couples to learn about the entire childbirth process, including natural childbirth, augmented labor, inductions, basic breathing techniques, labor positions and postpartum and newborn care.
Newborn care: Designed for first-time parents who desire a preparation course for the care of their newborn, including bathing, umbilical cord and circumcision care, diaper changing, when to call the pediatrician and more.
Breastfeeding: Intended to help you gain the skills and confidence for a rewarding and successful breastfeeding experience, including latch-on and positioning techniques, helpful tips for the first few days at home, nutrition while breastfeeding and returning to work. (Fathers and/or coaches are encouraged to attend.)
Siblings class: To help siblings of all ages feel comfortable and important in their new roles as big brothers or sisters.
Infant CPR: Recommended for parents, grandparents and caregivers of the newborn to learn hands-on CPR techniques.
Teenage pregnancy class: Offered for teen education and support, specifically addressing body changes, fetal growth, proper nutrition, baby care and safety, breastfeeding and overall infant health.
Maternity hospital tour
We offer a tour to provide expectant families with information on the importance of pre-registration, labor admission, what to expect during your hospital stay, newborn procedures, and infant safety and security.
A walking tour of the unit is provided so the new family can become familiar with the hospital and our birthing center.
To tour the facility, you may visit the admissions office Monday through Friday, from 7 a.m. to 6:30 p.m.
To schedule a tour of our facility, please call (561) 345-7009.
What to pack in your hospital bag for labor and delivery
Because babies have a timetable of their own, we suggest you have a bag packed and ready to go well in advance of your due date. Some of the items you may want to bring include:
Nightgowns, underwear and nursing bras
A comfortable robe and slippers
Phone charger
Personal items, such as a pillow or eye mask
Toiletries and cosmetics
Comfortable going-home outfits for you and your baby
Important phone numbers and information
An approved, properly installed infant car seat
Labor and delivery: time to meet your baby!
When you think you are in labor or your water breaks, call your obstetrician immediately. They will notify us to prepare for your arrival.
You may use the main hospital entrance Monday through Friday from 6 a.m. to 8 p.m. Outside of these hours, please use the ER entrance.
When you are in labor, you will be admitted to a private suite for your labor, delivery and recovery. At this point, you will be provided with a registered nurse who will do everything possible to ensure the birth of your baby is a memorable experience for you and your family.
Postpartum care
Our maternity services don't end after your baby is delivered.
Following the birth of your baby, you will be transferred to another private suite for postpartum care for the remainder of your hospital stay.
Here you will receive specialized care by medical professionals educated in both newborn care and providing personalized support to new mothers. For first-time parents, this is a learning opportunity so you can leave the hospital feeling confident about parenthood. Your support person is welcome to stay with you throughout the birth and throughout your hospital stay.
After you give birth, your baby may stay with you, unless special care is required. At Palms West, we have 24-hour neonatology coverage should your baby need special attention.
Our Level II NICU offers 24/7 specialized medical and nursing care.
Breastfeeding
Our Lactation Corner offers all the help and support you need in learning to breastfeed. We provide personalized care to you and your baby, including:
In-hospital visits and support
Telephone helpline to answer any questions
Follow-up telephone calls after your delivery
Outpatient appointments if you experience breastfeeding challenges, which are at no charge if you delivered at The New Life Center at Palms West Hospital
Educational materials
A personalized plan for employed breastfeeding moms
Breast pumps and supplies (for sale or rental)
For questions about breastfeeding, contact our registered nurses 24/7 at (561) 798-BABY (2229). You may also speak to a lactation consultant directly at (561) 753-4259.
Visiting hours
After you deliver your baby, family and friends may visit. Our hospital has an open visitation policy, but we do have some recommendations, including:
Proper rest for both you and your baby is essential, so we may limit the number of visitors.
We recommend healthy siblings are the only children allowed to visit.
Individuals with colds or other illnesses should not be visiting you during your stay.
As your baby grows, so will your relationship with us. We offers a full range of children's services to care for your child from birth through adolescence.
Newborn photos
Complimentary of Palms West Hospital, we will be happy to capture your special first moments with your new baby. Our exceptional photography team, Bella Baby, will capture multiple poses of your baby, with you and any other family members you wish to include. As a special gift, you will receive a slideshow with all of your photos so you may share this special day with your friends and family.
Blog